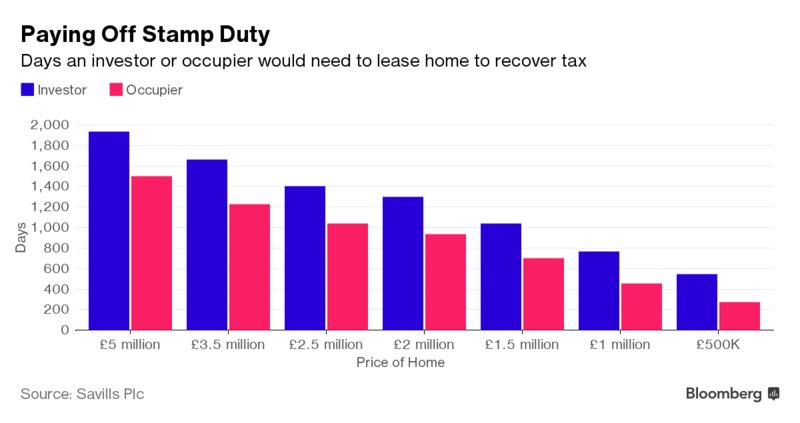 U.K.'s Landlord Levy Raises $1.3 Billion More Than Expected
A levy on landlords and second-home owners that roiled sales of property rentals is becoming increasingly important for U.K. government coffers as home sales fall.The tax raised 1.64 billion pounds ($2.1 billion) in the fiscal year ending March 31, figures published Friday show, a billion pounds more than the Treasury estimated when the levy was announced in late 2015.
London's most expensive properties have been hit hardest by the levy, with values in the best districts falling 6.4 percent in the year through March, according to data compiled by broker Knight Frank LLP.
The percentage of London homes bought by landlords fell to about 12 percent in the 12 months through February from 20 percent a year earlier, according to broker Hamptons International.The stamp-duty charge raised 454 million pounds in the first quarter of this year, 23 percent of the total tax.
The tax is in effect a 3 percentage-point surcharge.Stamp duty has provided a valuable source of income for the U.K. government as it tries to cut a budget deficit that totaled 52 billion pounds in the last fiscal year.
"In two to three years, when the numbers stop making sense, the government will have to reconsider the taxes," said Niccolo Barattieri di San Pietro, chief executive officer at London luxury homebuilder Northacre Plc, which developed apartments near Buckingham Palace and Hyde Park.
A levy on landlords and second-home owners that roiled sales of property rentals is becoming increasingly important for U.K. government coffers as home sales fall.

@ZSchneeweiss: UK's landlord levy raises $1.3 billion more than expected via @sharonrsmyth
A levy on landlords and second-home owners that roiled sales of property rentals is becoming increasingly important for U.K. government coffers as home sales fall.

The tax raised 1.64 billion pounds ($2.1 billion) in the fiscal year ending March 31, figures published Friday show, a billion pounds more than the Treasury estimated when the levy was announced in late 2015. The charge has been criticized by developers and landlords, who say it discourages people from investing in property and could lead to rent increases for tenants.

Those hoping for a cut in the levy may now "realize they will be waiting a very long time," said Lucian Cook, head of residential research at Savills Plc. "The current regime is a win-win for the government and until those numbers stop stacking up it's hard to see any change coming."

London's most expensive properties have been hit hardest by the levy, with values in the best districts falling 6.4 percent in the year through March, according to data compiled by broker Knight Frank LLP. The percentage of London homes bought by landlords fell to about 12 percent in the 12 months through February from 20 percent a year earlier, according to broker Hamptons International.

The stamp-duty charge raised 454 million pounds in the first quarter of this year, 23 percent of the total tax. That's the highest proportion since it took effect in April last year, the data show. The tax is in effect a 3 percentage-point surcharge.

Stamp duty has provided a valuable source of income for the U.K. government as it tries to cut a budget deficit that totaled 52 billion pounds in the last fiscal year.

"In two to three years, when the numbers stop making sense, the government will have to reconsider the taxes," said Niccolo Barattieri di San Pietro, chief executive officer at London luxury homebuilder Northacre Plc, which developed apartments near Buckingham Palace and Hyde Park. "Right now, it is seen as politically sensitive as it would be seen as helping the rich."