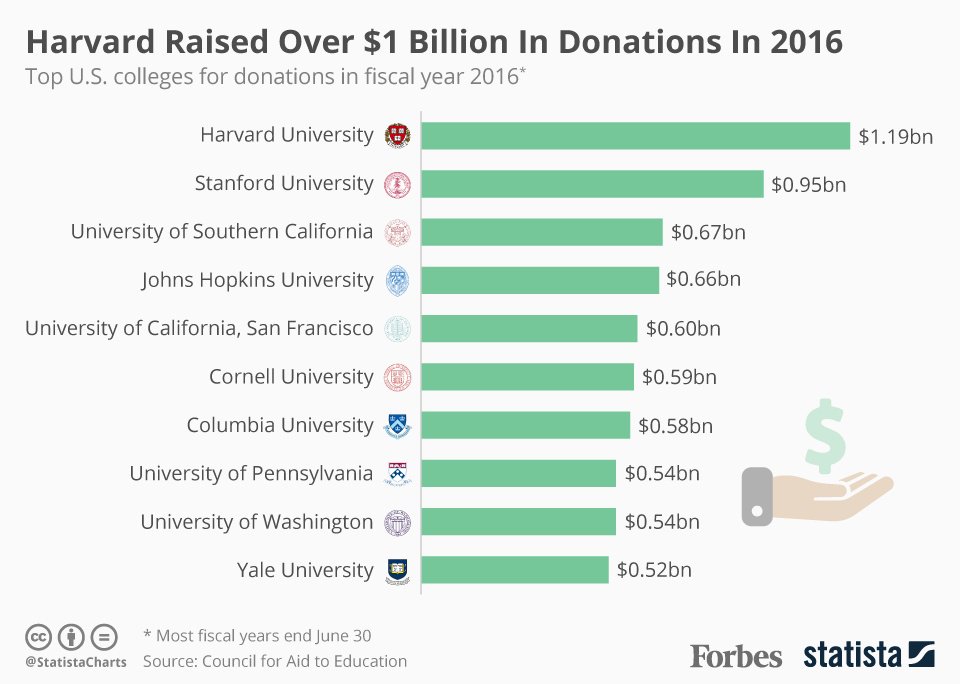 U.S. Colleges And Universities Raised $41 Billion In Donations In 2016 [Infographic]
2016 proved a record year for U.S. college donations with the country's third-level institutions raising $41 billion.
According to the Council for Aid to Education's annual Voluntary Support of Education survey, the level of fundraising increased by only 1.7 percent in 2016, small compared to previous years and a gain that's practically eliminated when inflation is taken into account.
Last year, Harvard University was America's top fundraiser, taking in $1.19 billion worth of donations.
In 2016, less than 1 percent of U.S. colleges brought in 27.1 percent of all donations.
According to the survey, giving from corporations and foundations increased last year, accounting for 46.5 percent of all donations in dollar terms.
2016 proved a record year for U.S. college donations with the country's third-level institutions raising $41 billion.

@EverTrue: U.S. Colleges And Universities Raised $41 Billion In Donations In 2016 [Infographic]
Forbes Welcome

CLOSE More Options
U.S. Colleges And Universities Raised $41 Billion In Donations In 2016 [Infographic]